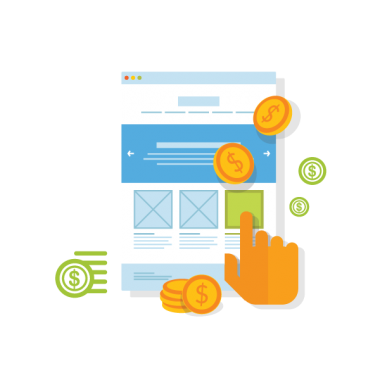 Online Ads and Pay Per Click (PPC) Management
A creative and engineered service!
We deliver your marketing message to your potential customers at a glance within creative and attractive advertising material. You can choose for them to be published on specified web directories, social networks or be managed through pay per click (PPC) on ads affiliations and search engine.
We design and manage the most attractive and creative advertisement campaigns for your business, based on its target market and ads costs, as well as the nature of the services or products to be promoted. Your pay per click campaigns need to be focused and effective to highly benefit from the ads fee that is being payed by you.
We also believe that ads material and content can deliver a lot of words regarding your business, its product or services, as well as its values. It is a professional skill to smartly and creatively convert these considerations into simple and interactive advertisement campaign. We are proud to declare that we are able to deliver this service with our professional, sharp and creative team of branding and advertisement.
Paid Search Advertising
There are a lot of key words in your industry that you may will to set for ads, although competition for your ads to be shown there on search result is just like the organic search! So you need to invest on ads based on your core competency and through smart campaigns.
PPC Remarketing
As marketing is to create customers for a business and maintain the loyalty of its current customers, such PPC campaigns are also recommended to keep your current customers loyal to your business.
Social Advertising
Find your target market on social networks and advertise your core competency to them. Your ads will then enter to their next life of being promoted by people in their networks!
Display Advertising
An image can say thousands of words, so once you have an attractive and effective banner, why not advertising visually to enjoy a higher rate of visitors with a higher enthusiasm to your business.
Video Advertising
Video texture of advertisement can bring a higher efficiency to the promotion of our services or products, as long as more details and sales points can be delivered through videos. Videos ads also enjoy voice media that makes them more influential.
Lets design and manage your smart ads campaigns on Google search engine and social medias to meet the highest rate of prospects!
7
Video Advertising Projects
58
Display Advertising Campaign
11
Successful PPC Remarketings
93
Social Advertising Projects
In 1911, Arthur Brisbane quoted, "Use a picture; it's worth a thousand words".
Campaign material is also considered to be very important for online advertisement! Image type of banners and videos are those limited capsules that delivers your visualised message of advertisement. As your ads need to be distinction to other's, their material needs to obey this rule, as well. so their design requires creative approaches to visualisation and presentation.